Downloads & Charts
Download the free Homeopathy app to find self-care medicines for everyday life: 
https://itunes.apple.com/gb/app/homeopathy-uk/id1099742333
Homeopathy for First Aid & Injuries: Keynote Reminders Chart by Miranda Castro FSHom, RSHom(NA), CCH – Download PDF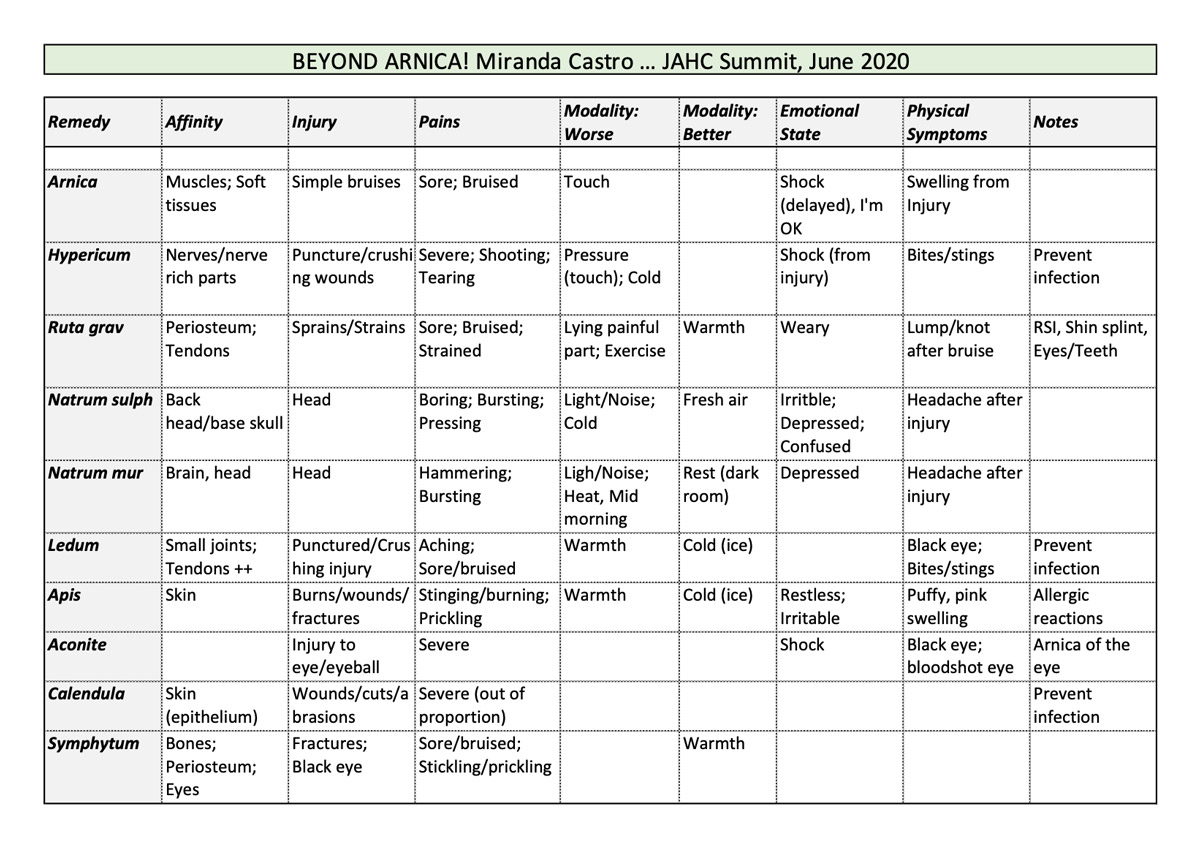 Homeopathy for First Aid & Injuries: Keynote Reminders Chart ADVANCED by Miranda Castro FSHom, RSHom(NA), CCH – Download PDF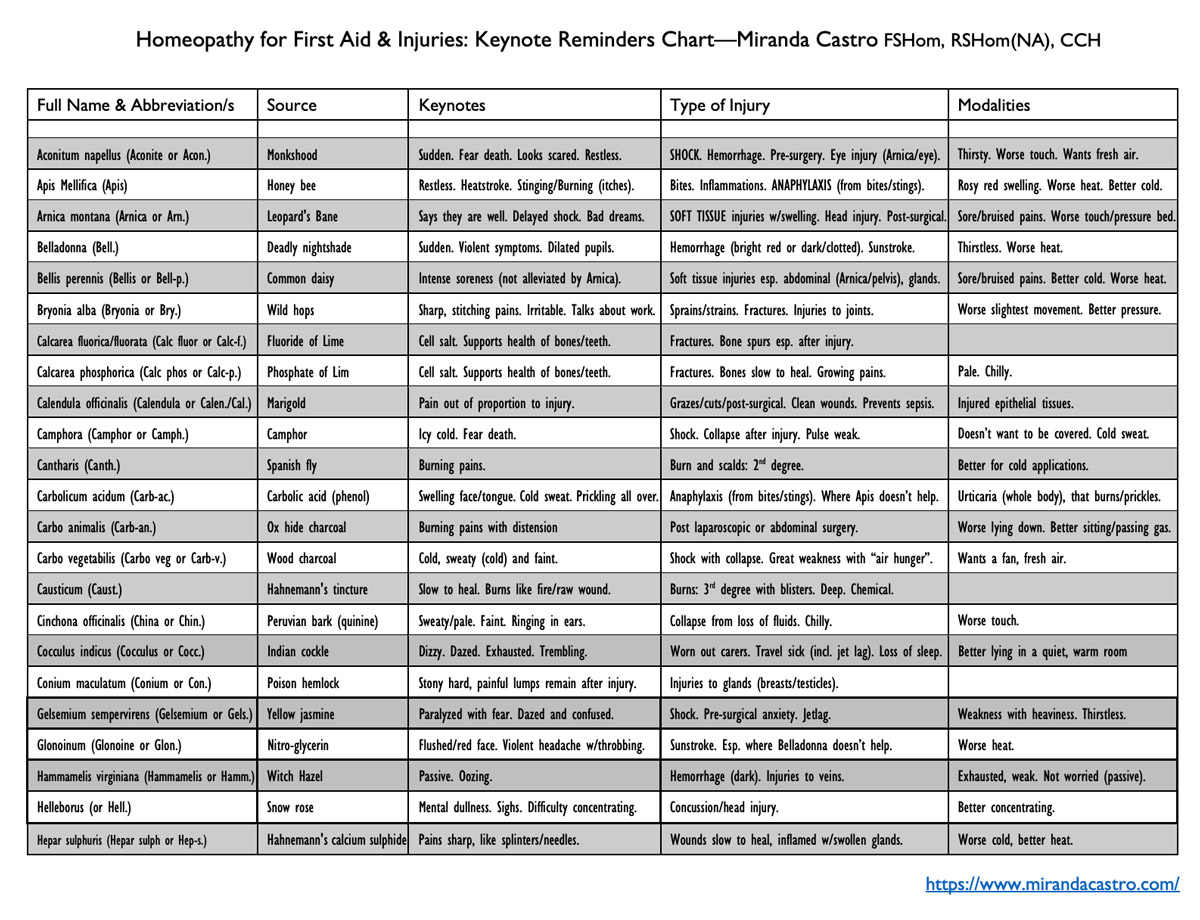 Websites & Pages
Riverdale Homeopathy: Riverdale Homeopathy is your online portal to Homeopathic Remedies, Books Holistic Health Care, and Community.
Miranda Castro: Miranda's website is a comprehensive information hub for the homeopathy consumer, featuring articles and webinars on a variety of topics, homeopathy around the world and much more.
4Homeopathy UK is an organization which promotes public awareness about homeopathy.
Homeopathic Research Institute: as of 2019, their database consists of 1298 clinical trials.
Homeopathic Research Institute Homeopathy FAQs: Homeopathy is controversial. Public figures from politicians to comedians frequently make strong statements against homeopathy, but very few people have actually had the chance to read the facts about homeopathy research for themselves. Here we take the most commonly repeated statements about homeopathy and see how accurate they are according to the scientific evidence we have so far.
Homeopathic Research Institute Core-Hom: This world-class resource, which was several years in the making, is the result of a close collaboration between HRI and the highly esteemed Karl und Veronica Carstens Foundation in Germany.
The National Center for Homeopathy (NCH) provides education and builds awareness while advocating for access to homeopathy as a safe, effective and affordable system of medicine.
Homeopathic Educational Services is an excellent resource centre for homeopathic books, tapes, medicines, software, and correspondence courses. Homeopathic Educational Services has co-published over 35 books on homeopathy with North Atlantic Books.
Hpathy.com is an excellent website, ranked among the top alternative medicine resources globally. It is a community portal developed by professionally qualified medical doctors and homeopaths from all over the world. It is also a rich resource for patients looking for information related to diseases and their homeopathic treatment.
Homeopathy Under Fire: What The Media Understands and Misunderstands About Homeopathic Medicine is an informative article by Canadian homeopath, Nicole Duelli, Classical Homeopath
books
About homeopathy
Homeopathy, Beyond Flat Earth Medicine, An Essential Guide for the Homeopathic Patient by Timothy R. Dooley, ND, MD
The Patient, Not the Cure, The Challenge of Homeopathy by Margery G. Blackie
The Science of Homeopathy by George Vithoulkas
On homeopathy for self care:
Homeopathic Medicine At Home: Natural Remedies for Everyday Ailments and Minor Injuries by Maesimund B. Panos
Complete Guide to Homeopathy: Principles & Practice of Treatment by Andrew Lockie, Nicola Geddes
Complete book of Homeopathy by Miranda Castro
Homeopathy for Pregnancy, Birth and Baby's First Year by Miranda Castro
Homeopathic Medicine for Children and Infants by Dana Ullman MPH CCH
Healing with Homeopathy: The Complete Guide by Wayne B. Jonas MD and Jennifer Jacobs MD
The Patient's Guide to Homeopathic Medicine by Robert Ullman ND and Judyth Reichenberg-Ullman ND,MSW
Everybody's Guide to Homeopathic Medicines by Stephen Cummings MD and Dana Ullman MPH
Homeopathic Self-Care: The Quick and Easy Guide for the Whole Family By Robert Ullman
Homeopathy for Specific Ailments:
Ritalin-free Kids: Safe and Effective Homeopathic Medicine for ADD and other Behavioral and Learning Problems by Robert Ullman ND and Judyth Reichenberg-Ullman ND, MSW
Prozac-free: Homeopathic Medicine for Depression, Anxiety, and other Mental and Emotional Problems by Robert Ullman ND and Judyth Reichenberg-Ullman ND, MSW
Impossible Cure: the Promise of Homeopathy by Amy L Lansky, PhD. At the core of Impossible Cure is the amazing story of how the author's son was cured of autism with homeopathy.
Movies
Magic Pills: Homeopathy- Promise or Placebo?
https://magicpillsmovie.com/
Homeopathic medicine is one of the most widely used forms of alternative medicine on the planet but, despite its popularity, it has come under a great deal of scrutiny in recent years and is now a favorite target for skeptics and debunkers. The controversy surrounding homeopathic medicine is founded in the belief that something so highly diluted cannot work without violating the laws of chemistry. Magic Pills challenges viewers to decide for themselves by presenting new scientific discoveries, and real world successes that challenge these assumptions.
Many medical journals refuse to publish positive studies due to systemic bias, and the media can distort the truth by omitting information. The stakes are immense, if homeopathy works it could transform the medical system, and provide safe, affordable, and effective medicine. Is the truth being buried?
Journey with Ananda More to Tanzania, where for the past 25 years a husband-and-wife duo of homeopathic doctors are using their skills to help thousands of HIV/AIDS patients in the most remote regions of the country. To Cuba, where she was the only person from outside the country given permission to tell the story of how homeopathic medicine given to millions of people stopped an epidemic in just a few weeks. To Kolkata, India, where the Banerji Clinic is having unparalleled success treating otherwise incurable brain tumors and other forms of cancer. To Mumbai, India where an MIT trained chemical engineer has discovered nanoparticles in the most dilute medicines. And finally to Switzerland, where a government-commissioned study led to the public health-insurance program covering homeopathy.
Just One Drop, The Story Behind the Homeopathy Controversy
https://www.justonedropfilm.com/trailer
Homeopathy is a specific form of medicine that uses minute doses of a highly diluted substance that stimulates the body to cure itself. To many, homeopathy seems implausible. They fear it is purely a placebo effect or worse, a form of deception or quackery. Yet, homeopathy has been around for over 200 years and is used by millions worldwide. The film explores the controversy, dispels myths and misconceptions, and asks whether or not homeopathy has been given a fair shake.
The film's ultimate message is about freedom of choice in healthcare.
Just One Drop has been touring around the world since April 2017. An updated version was created in October. This extended version is now being released on DVD and being screened worldwide.
Want to bring the film to your community? Want to purchase a DVD?
Go to our website: Just One Drop Film